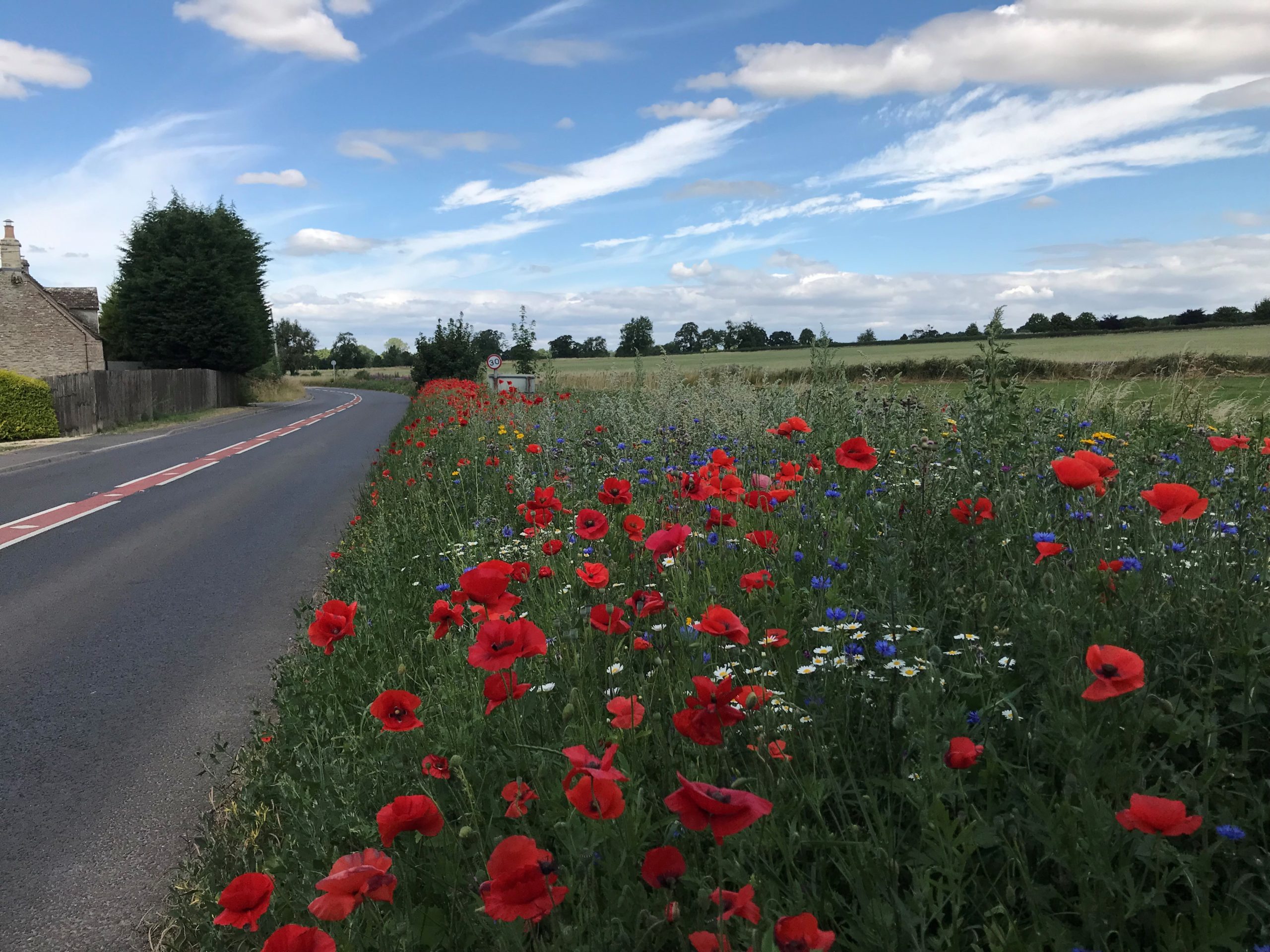 Wildflower verges through the village of Long Newnton – funded with a Caring for the Cotswolds grant and following the theme of 'conservation of habitats and species'.
A new window for project applications will open on 3rd July for the Caring for the Cotswolds grant scheme, running until 29th September. The scheme is open to charities, town & parish councils and other non-profits in the Cotswolds AONB. Projects are sought in the four key themes of: conservation of habitats and species, heritage and landscape, improving access, and education.
The Caring for the Cotswolds scheme is based around a visitor-giving model. Visitors voluntarily donate to member businesses, who pass the funds along to be allocated as grants for projects that benefit the unique landscape and heritage of the Cotswolds.
James Webb, Partnerships and Fundraising Lead at Cotswolds National Landscape explains, "In the last year, a record number of projects across the Cotswolds were completed and claimed their grants, totalling approximately £21,000 – making our countryside a better place for people and wildlife. In this grants round, we're keen to hear from organisations which are developing high quality projects across our region."
Grants start at £500 and go up to £2,500. Projects must fall within at least one of the scheme's four themes and offer good value for money. The application form and accompanying guidance document can be downloaded from the Cotswolds National Landscape website. The application window will be open until 29th September, after which time the applications will be reviewed and decisions made towards the end of the year.
Ben Dent, Cotswolds National Landscape Board Member said, "Many really valuable projects just need a relatively small amount of cash, with the minimum of paperwork – and that's Caring for the Cotswolds!  So, whether you want to contribute to the Cotswolds' landscape, nature, climate action or heritage, we're here to help you. And this is only made possible by the participating businesses, and their customers, whose generous contributions to this scheme help to keep the Cotswolds a special place to live, work, and visit."
Further details on the scheme and of the projects supported can be seen here: https://www.cotswolds-nl.org.uk/looking-after/caring-for-the-cotswolds/
Please contact Nina Stubbington at nina.stubbington@cotswolds-nl.org.uk  for further information or to apply for funding.