Water is essential to our survival, and healthy rivers provide vital habitat for wildlife to flourish. Yet if you don't have access to a nearby river, it can be easy to not fully appreciate just how special a resource it is. Rising near Moreton-in-Marsh and running through or past attractive villages and towns including Shipton-under-Wychwood and Charlbury, the River Evenlode sweeps in a southeast direction to join the River Thames just below Cassington.
The 'Everyone's Evenlode' project is enabling children, young people and members of the community to access, explore and enjoy their local river and its surroundings. We are working with local schools and communities to help inspire people to connect with their local stretch of river, learn about healthy river environments and nature, and act to take positive action to care for and ecologically improve the River Evenlode.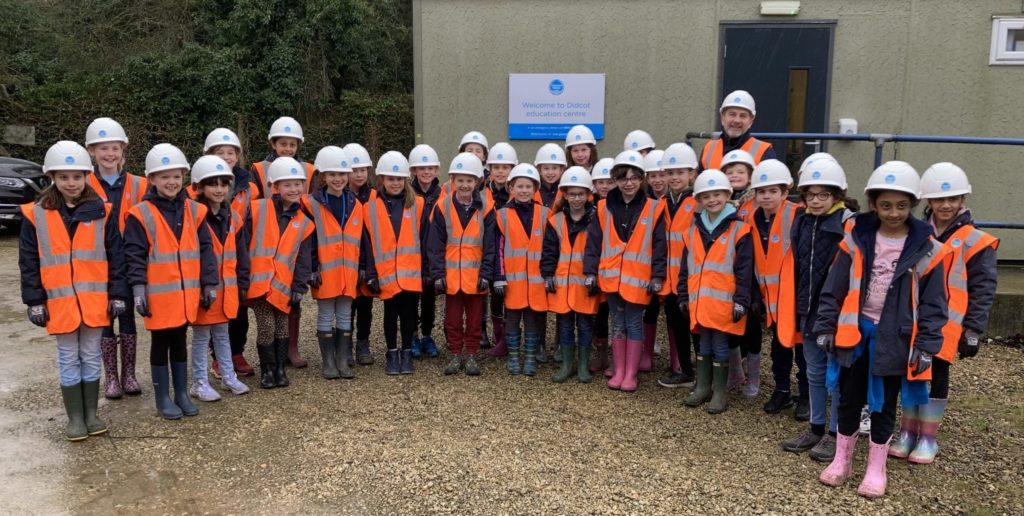 School visit to Didcot Sewage Works © Ros Marsden
Cotswolds National Landscape is part of the Evenlode Catchment Partnership (ECP) , which brings together partners and communities to look after their river environment.
The project is helping to build community skills, understanding and find solutions to the problems that affect water quality, and develop new relationships with landowners. Together, this will help the ECP achieve its long term goal of bringing the Evenlode – a river and landscape that truly merits its place at the heart of our community – back to good ecological condition. The project is being funded by Thames Water, as part of their 'smarter water catchment initiative'. There are four main work themes, which are being delivered in a collaborative and multi-partnered way:
Water quality and advocacy (delivered by Earthwatch for ECP)
Biodiversity, habitat, and landscape (delivered by Wild Oxfordshire for ECP)
Natural flood management (delivered by Wild Oxfordshire for ECP)
Education, access and recreation (delivered by Cotswolds National Landscape for ECP)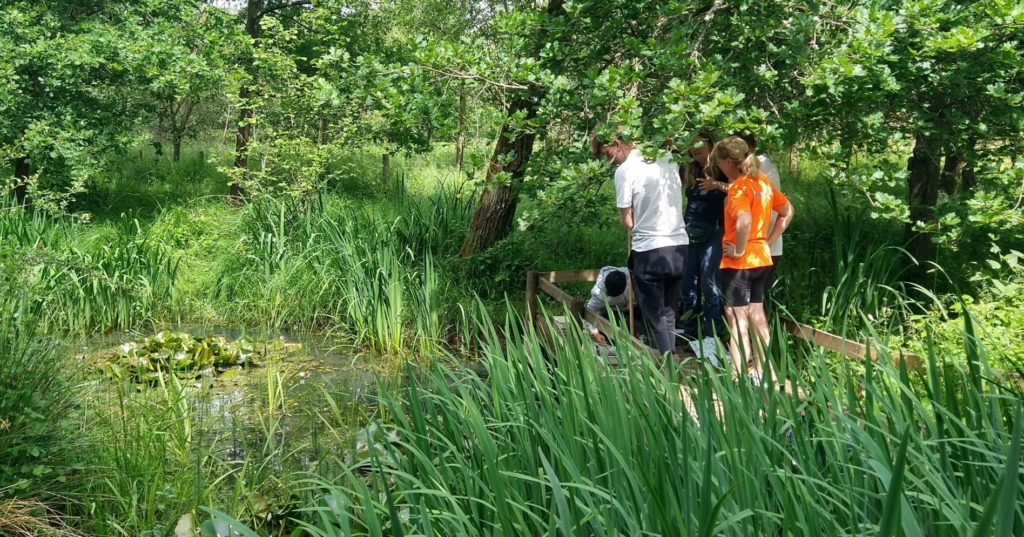 Duke of Edinburgh students Pond dipping at Combe Mill ©RWJ 
The Everyone's Evenlode team
The education, access and recreation element of the project is being delivered by the Everyone's Evenlode team, who are:
Rosalind Marsden, Education Officer (3 days per week)
Rowan Wynne-Jones, Education and Community Outreach Officer (3 days per week)
Jennifer Lanham, Community Officer (3 days per week)
---
Events
As part of our engagement work, we will be taking part and offering various events across the year. These are listed below.  If you'd like to find out more about these events, the project, or would like to be involved, please email evenlode@cotswolds-nl.org.uk
When?

What?

Where?

17th January 2023
Outdoor Learning Network Meeting
FarmED, Shipton-u-Wychwood, OX7 6BJ
14th February 2023
A Valentines Walk
to put a Spring in your Step
Bruern Farm Shop, OX7 6QE
5th  April 2023
Pool Meadow Walk and Talk

St Mary's Church, 10-11am, Chipping Norton,

OX7 5NT

22nd April 2023
Citizen Science Saturday
Wigwell Nature Reserve, Charlbury
29th April 2023
Community Action Groups Oxfordshire Wellbeing Walk
Oxford Train Station 9:30
Charlbury Train Station 9:45, OX7 3HH
Reserve a free spot
7th June 2023
Big Paddle Clean-up Recce
ECP team head to the river to clean up the water along the Charlbury Canoe Club to see how we might organise a larger event next
Charlbury Canoe Club, OX2 0NL
10th June 2023
Source to Sewage Walk & Talk
Learn more about your local sewage outfall points, current water quality in the Evenlode, and what you can do to influence improvement.
2 hour walk leaving 10am from Moreton in Marsh Cricket Ground, GL569QA
17th-18th June 2023
Festival at Daylesford
Dalesford, Kingham, GL56 0YG
1st July 2023
Oxfordshire Community Action for Nature Recovery
A one day workshop for community and environment groups, parish councils, and others interested in action to restore and protect our nature.
10:00 – 4:30, West Oxford Community Centre Botley Road Oxford OX2 0BT
9th July 2023
Wychwood Forest Fair
Foxburrow Community Wood, Witney, OX29 9UN
15th July 2023
Source to Sewage Public Event


This event is an information exchange and panel for Q&A for all Moreton residents and surrounding villages. Presentations by Thames Water, the Environment Agency (TBC), the Neighbourhood Development Plan Group and Earthwatch will cover water quality. Sir Geoffrey Clifton-Brown and Cllr Lidia Arciszewska – Executive Member for Environment for WODC will be present

12:30 -2:30, Redesdale Hall, Moreton in Marsh, GL56 0AX
16th July 2023
Wildlife by the Evenlode
Combe Mill, Blenheim Palace Sawmills, Combe, OX29 8ET
29th-30th July 2023
Riverside Festival
Mill Field, Charlbury
2nd, 16th and 30th August 2023
Wild Wednesdays at Combe Mill
Come explore the river through pond/river dipping and learn all about the river through hands on activities.
11am-3pm, Combe Mill,
Blenheim Palace Sawmills,
Combe, Oxfordshire, OX29 8ET
Sat 2nd September 2023
Moreton Show
Moreton in Marsh
23rd October 2023
IF Oxford Science & Ideas Festival
packed with inspiring, entertaining and immersive events for people all ages
11-5pm Greater Leys, Oxford