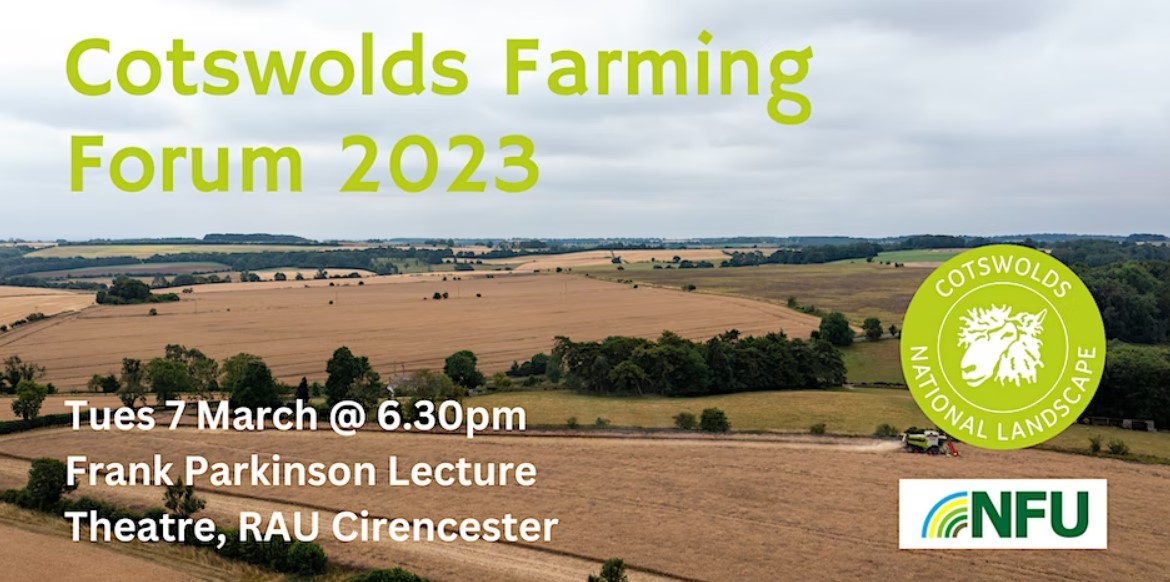 This year we're delighted to be back at the RAU for the first in-person event we've held since 2019.
Tue, 7 March 2023, 18:30 – 21:00
Parkinson Lecture Theatre, Royal Agricultural University Stroud Road Cirencester GL7 6JS

We hope to see many faces – old and new – joining us for an informative and enjoyable evening, looking at the future of farming in the Cotswolds at a time of great change.
We'll gather over refreshments at 6.30pm before moving into the Frank Parkinson Lecture Theatre where presentations will begin promptly at 7pm, followed by an audience Q&A session with our panel.
We're lining up some great speakers for 2023, covering four key themes:
Arable – moving away from conventional systems and exploring alternative approaches
Livestock – developing grazing systems that are both environmentally and economically sustainable
Diversification – making the most of a growing demand for locally produced food
Soil carbon – understanding your land's potential what this could mean for your farm business
The speakers are all beneficiaries of Defra's Farming in Protected Landscapes grant programme, which they've used to deliver projects supporting agricultural transition in the Cotswolds. We're asking them to talk about the impact of these projects and how they support broader plans for the future.
Parking is free and you can view a map of the RAU campus here (location 21).
The event is aimed at farmers and land managers but anyone with an interest is welcome. Tickets are FREE!
Reserve your spot now on Eventbrite
Our Speakers:
Henry Astor – Bruern Farms
Henry Astor runs a mixed arable and livestock farm in West Oxfordshire with a main focus on integrating biodiversity with sustainable farming practices. 'Healthy soil, healthy food, healthy people!' is the motto at Bruern Farms, which is transitioning from conventional cropping to growing heritage grains using restorative and regenerative methods. They follow conservation agricultural practices, with direct drilling, cover cropping and diverse rotation to help improve soils, reduce inputs and prevent the build-up of weeds, pests and diseases. They're also part of the Cotswolds Grain Network, a group of bakers, farmers, brewers and researchers who want to re-imagine the grain economy in the Cotswolds, promoting heritage and non-commodity grains and direct distributing locally.
Henry applied for a FiPL grant towards the purchase of a grain mill and processing equipment, enabling the farm to make and sell flour directly to local markets. The grant also helped them buy a game larder for processing rare-breed meats and venison.
Rob Havard – Phepson Angus, and Matt Darby – Kemerton Estate
Rob is a sixth-generation farmer and professional ecologist that previously worked for Natural England as a conservation grazing lead advisor. He's been using Holistic Management to inform his farming practice since 2014 and now integrates planned grazing on 1000+ acres of diverse pasture. Rob's main focus is on the marriage of productivity and ecological gain. Using grazing techniques that are based on recreating natural processes allows Rob to grow fitter cattle for less money while leaving the land in a better state than when he found.
Rob requested a FiPL grant for various items to support management of their herd at the Kemerton Estate, including training and equipping a draft horse. Rob will be joined by Matt Darby who owns and manages the Kemerton Estate. Matt has a wealth of experience in nature conservation, farming and forestry, town planning, landscape history, and the charitable sector. He's also a CNL Board member.
Lydia Handy and Liberty Nimmo – Homegrown at Hampen
Lydia Handy runs a 330-acre mixed farm, Lower Hampen Farm, with her husband, Clive. They share a love of wildlife and farm in a sustainable, regenerative way that supports both nature and food production. They're also very effective networkers and collaborators, hosting numerous nature conservation and sustainable farming projects with different people and organisations, including FWAGSW and the CNL.
Lydia, a trained land agent with experience of running her own businesses, has diversified the farm's product lines in various ways, including making items from their own wool, as well as candles and soap, for example. With support from FiPL, the farm recently set up a Community Supported Agriculture (CSA) scheme in what was an awkward corner of an arable field, where they now grow and seasonal fruit, veg and flowers for sale to local residents. It's become a real hub of the community and they're already expanding the set up. Clive. Liberty Nimmo helps run the market garden and farm shop.
Tim Field – North East Cotswolds Farmer Cluster
Tim Field worked to found Agricology with the ORC and Allerton Project in 2014 to disseminate best practice and research on practical, sustainable farming. He is CEO of Carbon Quester, working with the Rothamsted Research Institute to develop an affordable, accurate soil carbon testing and modelling methodology. Tim is also facilitator of 125 farms across 82,500+ acres in the North East Cotswold Farmer Cluster (NECFC), who successfully bid to deliver a Landscape Recovery pilot project on the river Evenlode. With a background in biology and rural surveying, Tim has twenty years of experience in environmental management of farms, property, and the food supply chain.
Tim has helped members of the NECFC benefit from five successful FiPL applications to date. One of these involved soil carbon analysis and baseline mapping for 36 farms across 15,000 hectares, which has led to follow-up projects looking at farm carbon management and green finance opportunities that could be delivered at scale.
To find out more, please contact Scott Brown: scott.brown@cotswolds-nl.org.uk