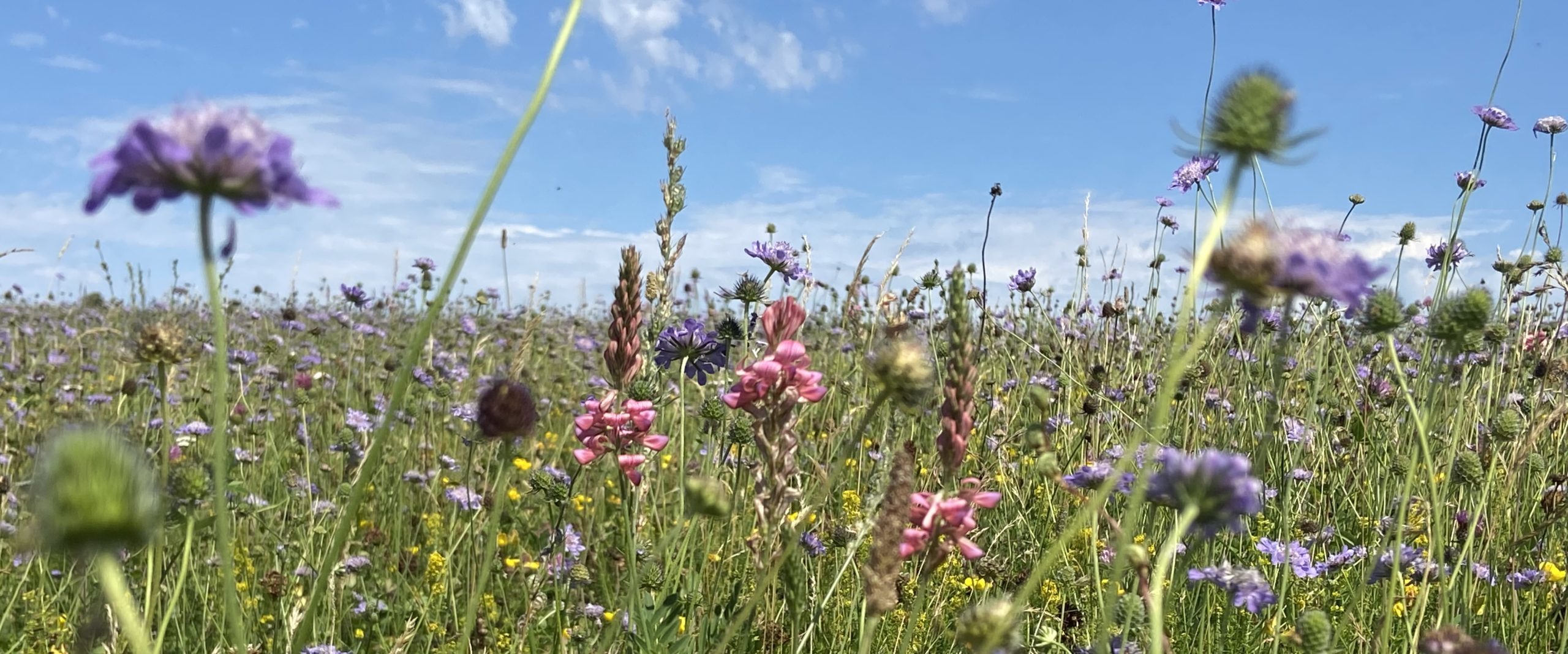 Glorious Cotswold Grasslands began in 2019 as an exciting and ambitious 3-year project funded by the Esmée Fairbairn Foundation to create the largest network of wildflower-rich Jurassic limestone grassland in the country, but has proven so successful that we are continuing the programme indefinitely.
Building on the legacy of the Save our Magnificent Meadows project in the Cotswolds, the aim was to secure the long term management of these precious grasslands through farming and community engagement, alongside practical and educational activity. From 2019-2022 we initiated restoration work on over 200 hectares of land throughout the Cotswold National Landscape, more than doubling the original target – an amazing achievement. In 2021 we entered into a partnership with Severn Trent Water as part of their Great Big Nature Boost and this funding, combined with several other potential funding sources has enabled the Cotswold National Landscape to move the project onto a permanent footing, meaning we will be working to restore Cotswolds grassland for many years to come.
The background – habitat loss
In the 1930s, 40% of the Cotswolds Area of Outstanding Natural Beauty (AONB) was covered in wildflower-rich grassland. This habitat was abundant with beautiful wildflowers, and supported a vast diversity of wildlife, including rare wildflowers such as the beautiful Pasqueflower and a huge variety of invertebrates and all the birds and mammals that depend on them. Wildflower grasslands are particularly important for pollinators such as bees and butterflies, including many rare species such as the Chalkhill Blue and Duke of Burgundy. Sadly, agricultural intensification and changing land management practices have led to the loss of almost all this wildflower grassland…less than 1.5% remains.
Limestone grassland must be managed to be maintained. Without sensitive grazing, grassland areas revert to invasive scrub. We work with a range of landowners, land managers, and other organisations to try and ensure that grassland sites in the Cotswolds are carefully looked after.
The future – habitat restoration
Through careful management it is possible to restore previously 'improved' grasslands and create new species-rich grasslands. Using seed collected by our brush seed harvester we can over-seed existing grassland or land previously used for arable farming to increase the floristic diversity of such sites with wildflowers of local provenance and genetics. We are able to work with a range of organisations including large and small private landowners and managers, conservation charities, local authorities, parish councils and schools.
Want to help us continue to thrive? Donate below!

---
Landowners and managers
Do you own or manage some grassland?
Encouraging species-rich wildflower grassland offers benefits to you, your livestock, and the wider environment. We provide advice on grassland management best practice and techniques, and funding to restore or create wildflower grassland. Please do get in touch with Harvey & Anna for advice on your grassland restoration plans or to arrange a free site visit.
In the meantime please download our Glorious Cotswold Grasslands Advice Pack for guidance on many of these issues.
---
Events
As part of our engagement work, we aim to run a number of events throughout the year, news of which will be posted here. These will include guided walks, events and festivals, and equine and landowner workshops. As these are finalised they will be listed below. For courses marked * please email Anna (anna.field@cotswolds-nl.org.uk) to register an interest or for further details.
When?

What?

Where?

Sunday 11 June 2023
Yew Tree Farm Nature Day
Yew Tree Farm, Brewery Lane, Thrupp. GL5 2EQStroud
Monday 19 June 2023
Equine Workshop
"Managing Horse Pastures for Biodiversity"
FarmED, Chipping Norton
More information here
Monday 26 June 2023
Wildflower Identification Day
Whitting Lodge Farm, near Cheltenham
More information and booking here.
Saturday 1 July 2023
National Meadows Day – walk and lunch
Abbey Home farm, near Cirencester
More info and booking here.
Saturday 2 September 2023
Moreton-in-Marsh Show
Moreton in Marsh, Gloucestershire
Find our CNL pitch and pop in to say hello!
Seed giveaway
Have you been given some of our special Glorious Cotswold Grasslands seed mix at one of our events?
---
Newsletters
---
Free schools art pack
During our arts competition in 2021, we produced a fun, colourful, and engaging arts pack for Key Stages 1 & 2 to help school children and learn all about wildflower meadows. Download the free schools art pack here.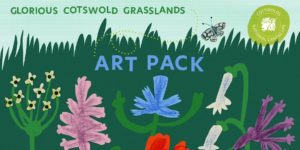 ---
Volunteer with us
Can you spare a few hours to help our wildflowers and other wildlife?
Our Glorious Cotswolds Grasslands team are always looking for volunteers to help with our work.
Do you have a love for wildflowers? During the spring and summer we are always looking for help with botanical surveys of our sites.
Or would you prefer to help at one of our seed harvesting days in July and August?
Or want to keep fit? Join our autumn/winter Wednesday habitat management group.
No experience required, and all essentials (including tea and cake!) will be provided
Just some of the work undertaken by our wonderful grasslands volunteers
---
Meet our team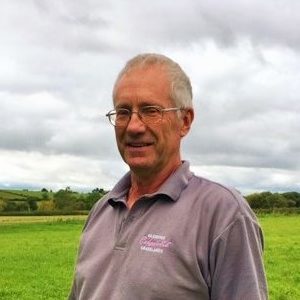 Harvey Sherwood
Harvey Sherwood is our Glorious Cotswolds Grasslands Operations Co-ordinator. He has worked in a range of practical and advisory roles in farming, ecology and land management for many years and has extensive experience working with land managers in the Cotswolds.
07841 663603
harvey.sherwood@cotswolds-nl.org.uk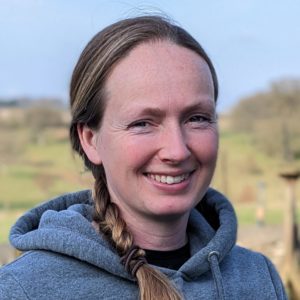 Anna Field
Anna Field is our Glorious Cotswold Grasslands Programme Officer. She is a trained ecologist with a wide variety of experience of botanical, invertebrate, and ornithological surveys and practical habitat conservation in the Cotswolds.
07801 656158
anna.field@cotswolds-nl.org.uk
Lorna Baggett
Lorna Baggett is our Biodiversity Net Gain Programme Officer, and works closely alongside Harvey and Anna. Lorna takes the lead on the new Biodiversity Net Gain project – in partnership with the National Trust and funded by National Highways.
07742 809026
lorna.baggett@cotswolds-nl.org.uk