Transforming the fortunes of vanishing wildflower grasslands
Wildlife-rich grasslands were once widespread throughout the UK, however due to changing land management practices, this habitat has undergone a serious decline. Now only 2% of the meadows that existed in the 1930s remain.
We were one of 11 organisations involved with 'Save our Magnificent Meadows', a national project led by Plantlife and funded by the Heritage Lottery Fund. The 3-year project worked with local communities to conserve and restore wildflower-rich meadows and grasslands.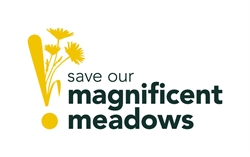 Save our Magnificent Meadows (www.magnificentmeadows.org.uk) is the UK's largest partnership project transforming the fortunes of our vanishing wildflower meadows, grasslands and wildlife. Led by Plantlife, the partnership is made up of 11 organisations, including the Cotswolds Conservation Board and is primarily funded by the Heritage Lottery Fund.
The Save our Magnificent Meadows project:
Targeted just under 6,000 hectares of wildflower meadows and grasslands in nine strategic landscapes across the UK, including the Cotswolds AONB.
Gave people all over the UK the chance to visit, enjoy and learn about our wildflower meadows and grasslands.
Raised awareness of the desperate plight of our wildflower meadows and grasslands and equipping communities with the knowledge and skills to reverse this devastating trend.
The Cotswolds element of Save Our Magnificent Meadows was delivered over three years and particularly worked in the Cotswold scarp and river valleys. The main focus was not the management of existing high quality grassland sites, but targeting the low quality and previously wildflower-rich grasslands that often surround and connect these sites.
Conservation Officer at the time, Eleanor Reast, provided advice to landowners on grassland restoration with the aim of restoring up to 1,125 hectares over three years. She recruited 'Landowner Champions' who helped deliver conservation advice and support in the local community. The project purchased a seed harvester to collect seeds from already species-rich donor sites and broadcast them onto poor grassland nearby.