Spring 2023
A test of resilience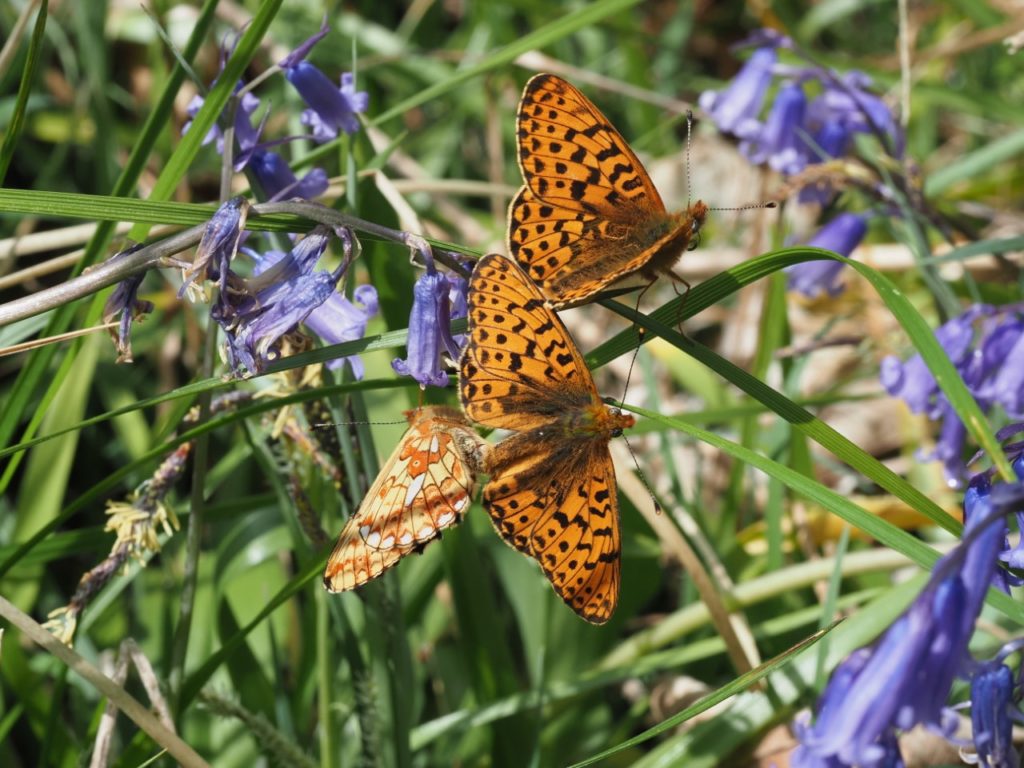 The highly threatened Pearl Bordered Fritillary butterfly, pictured here jostling for position as the adult butterflies emerge in spring © Chris Tracy 
This beautiful butterfly was once widespread but has declined by 95% since the 1970s, and is now highly threatened in England and Wales. In Gloucestershire, the butterfly is restricted to the Bathurst Estate woodlands and it is here that a Caring for the Cotswolds grant has supported targeted habitat management work, including the planting of 700 violets; the butterfly's food plant. The grant also supported an interpretation board so that people can learn about this threatened butterfly when they visit the site. 
The right habitat is crucial; coppiced woodland where the butterflies foodplant can grow and they can bask and nectar in the open sunny conditions. Therefore, a continuous cycle of coppicing is the ideal situation. The local branch members of Butterfly Conservation have been coppicing small patches of the Bathurst Woodlands for many years and it's really thanks to their sterling work the butterfly has been given a lifeline. More recently, FWAG volunteers have also been helping out.  
The population is very dependent on good spring weather so the numbers fluctuate year by year. In the last three years, the warm spring weather has enabled some butterflies to spread into new areas. However, the cold, wet spring of 2023 is likely to result in fewer butterflies. This demonstrates the fragility of threatened species and the need to make the network of wildlife sites bigger, better, and more joined up. This is more important than ever in the face of climate change.  
Finances: in 2022-23 a record number of projects completed and claimed their grants, totalling £20,845 paid to 13 organisations across the Cotswolds!
Winter 2022-23
What a comeback!

Take a look at these amazing before and after photos that give an insight into the Cotswolds industrial past. The newly restored Stothert & Pitt crane, thought to be the oldest surviving example in the world, is now on display in Bath. The restoration was made possible through the hard work of volunteers from The Bath Stone Museum Quarry Trust and a grant from our very own Caring for the Cotswolds scheme. All photos © Peter Dunn.
Long Newnton Parish Council – Project complete! – Wild flower verge creation and management over three years. This project featured on BBC Points West in summer 2022.
Tysoe Parish Council – Project complete! – Community engagement and conservation project that ran over the course of 2022.
Radway Parish Council – Project complete! – Churchyard restoration and interpretation of war graves in this nationally significant churchyard.
Bradford on Avon Town Council – Project complete! – Towards a tree survey and bat, bird and mammal boxes at Becky Addy Woods.
Yatton Keynell Parish Council – Project complete! – improvements to the village pond including a survey, planting, fencing and wildflower sowing with lots of help from the local primary school students!
Autumn 2022
A great place to volunteer, meet new people and enjoy nature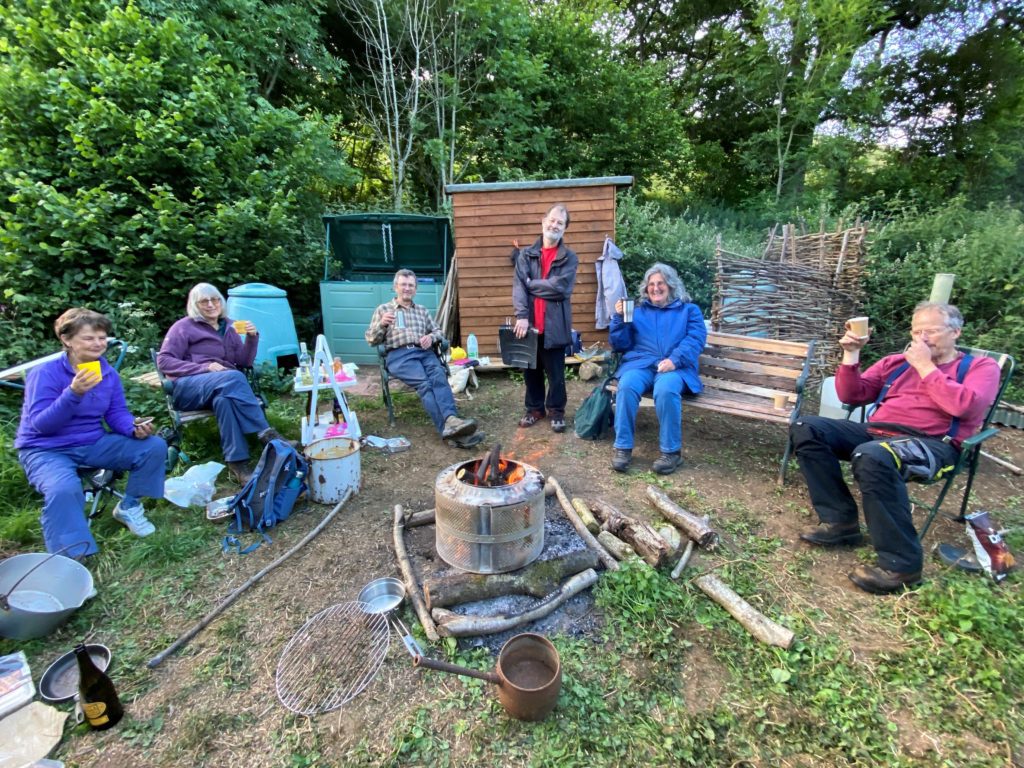 Volunteers enjoying a well-earned break at 100 Acer Wood © Martin Clarke
A bumper crop of projects complete this autumn! They are:
The Campden Society – management and restoration work to help preserve this stunning three-acre traditional orchard at Wolds End, Chipping Campden.
Box Parish Council – extensive works to improve the Lovar Valley walk for wildlife and the local community. With the help of the Cotswold Voluntary Wardens, areas have been cleared, bulbs planted and new benches installed.
Leafield Parish Council – restoration of the war memorial lychgate that forms the entrance to St Michael and All Angels Church in the village. It has an inscription on the lintel to honour the men of Leafield who served and died in both World Wars.
Wotton Area Climate Action Network – tree planting, interpretation and wildflower plug planting in sites across the town, benefiting nature and communities.
100 Acer Wood Conservation Trust – a growing band of volunteers have helped restore the site and improve it for wildlife. The volunteers have laid a large section of hedge, cleared undergrowth swamping young trees and created open areas for wildflowers and insects.
Summer 2022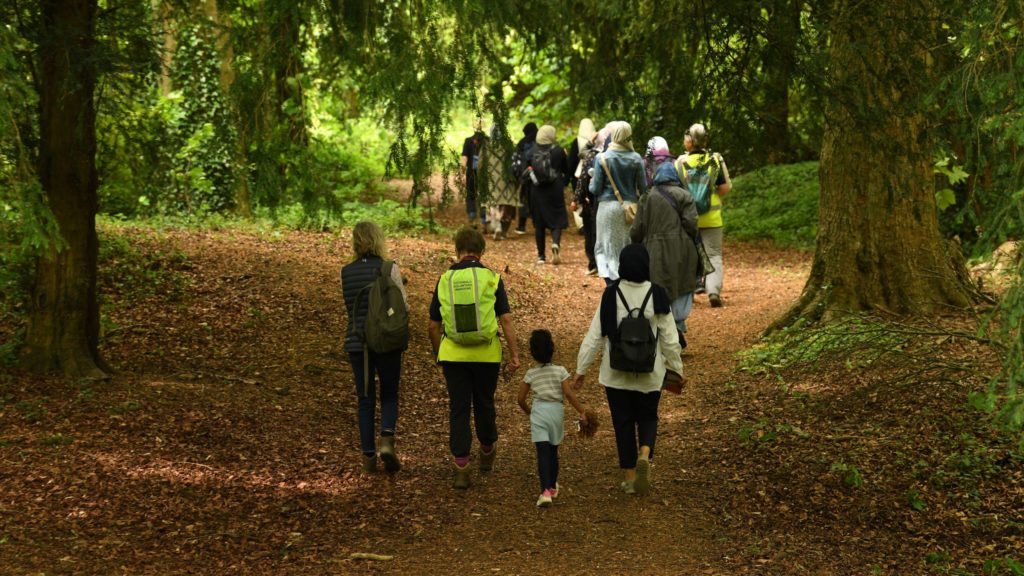 Walking through the beautiful surroundings of Cirencester Park ©Russell Sach Photography
Friendship Café & Cotswold Voluntary Wardens – Project complete! – walking equipment, maps, high-vis jackets and walking poles to facilitate a women's walking group from The Friendship Café, Gloucester.