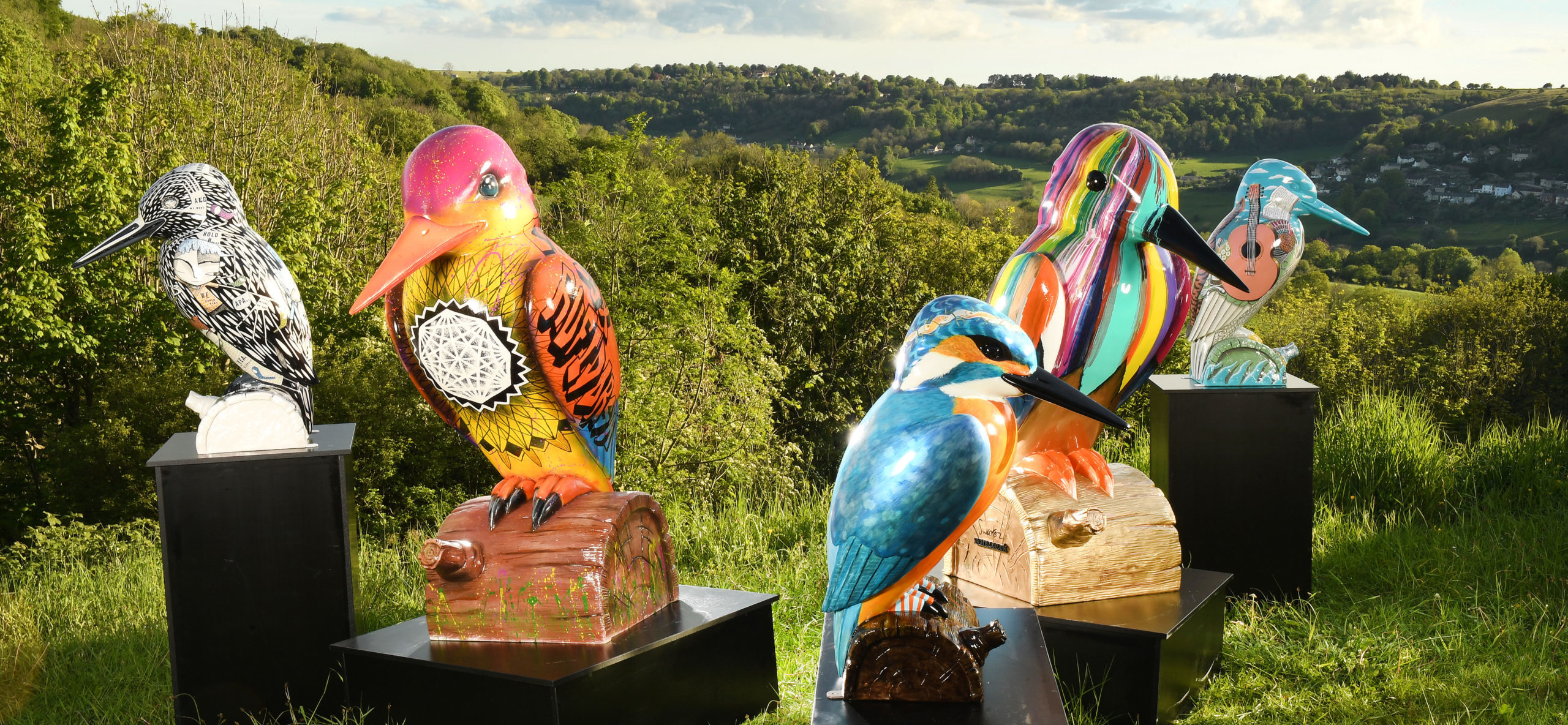 Celebrating our waterways and wildlife…the Kingfisher Trail 2021
The Kingfisher Trail has raised around £60,000 – with several of the kingfishers snapped up by eager buyers in the weeks before the auction, and the remaining sculptures selling through the auction. The sales of the sculptures are a fantastic acknowledgement of both the creative talent and skills of the artists involved, and the willingness for bidders to support the work of the Cotswolds National Landscape team.
The Kingfisher Trail launched on 31st May 2021 – to herald the start of summer. Aimed at residents and visitors alike, this accessible and covid-safe activity ran along two distinct routes inspired by the rivers Severn and Thames. In the west, the Severn Trail followed the Cotswold Way along the dramatic escarpment. In the east, the Thames Trail linked stunning Cotswold villages and the waterways and tributaries of the River Thames.
The trail routes featured 20 large artist-designed kingfisher sculptures, hosted at hand-picked locations throughout the region and beyond. A special 'Flying Kingfisher' swooped into a new location every two weeks, and finally a 22nd sculpture, aptly named the Golden Kingfisher, was part of a prize draw competition.
All 22 impressive kingfishers were hosted at a range of places, from historic castles to market towns, and nature reserves to cosy cafes. Each kingfisher was truly unique, created by our dedicated cohort of artists, with themes close to their hearts, including nature and wildlife, climate change, people and places special to them, and of course – the Cotswolds National Landscape!
Andy Parsons, Chief Executive, Cotswolds National Landscape commented: "Within three years we have an ambition for our Rural Skills Outreach programme to be largely self-financing – supported by the more commercial elements of our rural skills programme (courses, tourism experiences and corporate days). Unsurprisingly though, it's these areas of our operations that have suffered badly over the past 18 months, and we are in the process of starting to rebuild. So, the funds raised through the Kingfisher Trail will be a massive help in ensuring we can continue to reach out to those young people who need it most."