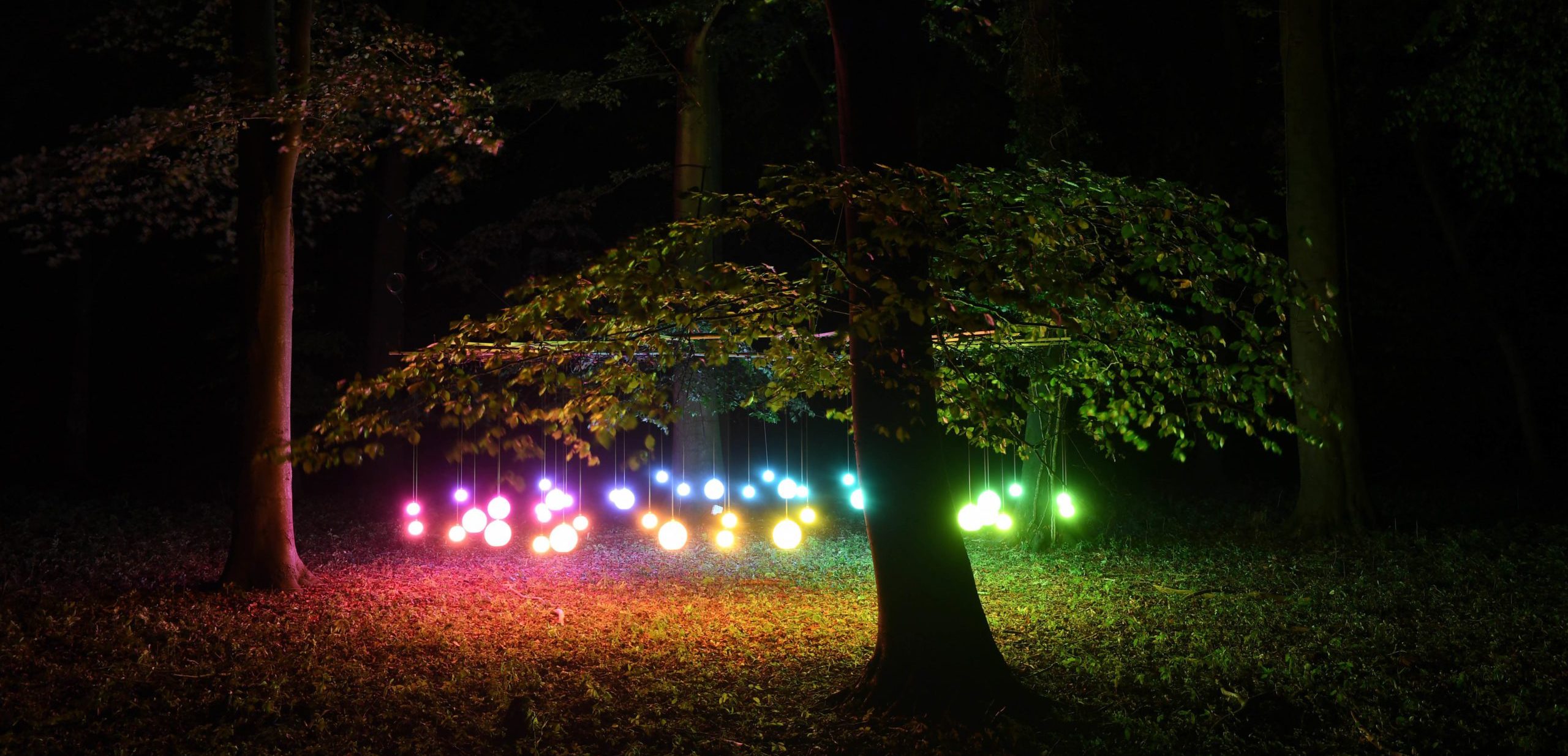 The Power of Art experimental research installation by Squidsoup, Cotswolds, 2022. ©Russell Sach
The Power of Art: Off Grid
As part of the Art in the Landscape programme, we are delighted to be collaborating with Squidsoup on The Power of Art – an experimental light installation – exploring technology, energy, and a sense of place.
The Power of Art is being funded by Stockton International Riverside Festival, and Arts Council England. Working with industry partner, Cleevely, this experiment will explore ways to power large scale light works off-grid with renewable energy. Cleevely have provided electric car batteries which have reached end-of-life status in vehicles, but could still have a use elsewhere.
Power has always been a precious commodity, and in 2022, events made this point clearer than it has been for decades. This project explores ways for renewable energy to be harnessed to power digital artworks like these, and in so doing, freeing them from previous constraints.
In a secret location in the Cotswolds, The Power of Art has been installed in a secluded woodland. Fifty illuminated orbs are powered by energy harvested through solar panels charging repurposed electric vehicle batteries. The trial, testing the feasibility of using renewables for artworks, uses a twelve minute performance cycle of pulses and glows set to a soundtrack. This research will give us technical information; for example how long the work can sustain itself, how the work might be scaled up, and how the loss occurred in AC to DC conversion could be removed. As an experimental piece, the installation is not open to the public, but you can watch below to see the livestream of the work in situ*. Observe as the natural light shifts and changes through the day, and the artwork's audio track is complimented by the sounds of the woodland all around.
Together, we hope to show that by using technology and renewable energy, we can bring art to as many people as possible – presenting works in different ways, to new audiences and communities, and in new rural locations.
Working with Squidsoup on this pioneering project has huge potential, and we look forward to seeing where it takes us in the future.
Livestream: The Power of Art

*Please note that as an experimental piece researching how art works can be powered off grid by renewable energy, there may be times when this livestream pauses. Please do check back later if this happens!